Northern Spain's Green Coast
A self-guided cycling tour following the beautifully verdant Asturian coastline of Spain to enjoy its empty sandy beaches, pretty coves, fishing villages and historic towns.
Difficulty:Moderate+
Details ...
Duration:7 nights, 8 days
Dates:April to 31st October
Start:Any day of the week
Longer distances and hilly terrain, with perhaps four ascents per day.
Cycling surface:Tarmac: 85%. Cycle track: 10%. Dirt road: 5%.
Average daily distance / climb:28 miles (45 km) / 2969 ft (905 m).
Description
Going from Santander to Gijon, this holiday enjoys a very appealing mild climate all year round, making it an ideal holiday destination if you shy away from excessive heat. It's Spain best-kept secret!
Cycle along small country roads and take in the spectacular green coast of Spain from Cantabria to Asturias.
This region is famed for its delicious traditional gastronomy using excellent local produce: fresh fish, seafood, and cheeses, all surprisingly affordable.
We have chosen charming hotels in prime locations to rest each night. End the day perfectly with a relaxing wander through neighbouring streets to find great restaurants for dinner.
Experience the belle-époque elegance of Santander's El Sardinero beach and its lively foodie scene .
Have the opportunity of a refreshing swim each day along the precious beaches of the region.
Take in the bustling open-air markets exhibiting the freshest local produce
A perfectly preserved medieval jewel , the village of Santillana del Mar, is meant to be explored with its cobbled streets full of hanging bougainvillea flowers and impressive noble houses.
The town of Comillas with its lovely golden beach, quaint fishing port , cobbled old centre, modernist mansions and its historic university.
The picturesque fishing village of San Vicente de la Barquera, sitting against the imposing backdrop of the Picos de Europa mountain range, famed for its fabulous seafood !
Beautiful coastal town of Llanes, with its small medieval core and bustling harbour.
See the fishing town of Ribadesella with its stunning Santa Marina beach.
Visit Villaviciosa, capital of Asturia's Cider production
To finish off, experience the vibrant town of Gijon with its spectacular beach and packed agenda of lively cultural events .
Itinerary
Day 1: Arrival to Santander
Arrival and a chance to explore the belle-époque elegance of Santander along the famous El Sardinero beach, right where your hotel is located, a prime location.
Day 2: Santander to Santillana del Mar
Distance: 32 miles (52 km). Climb: 2972 ft (906 m).
This morning you will set off along cycle lanes out of the city and into the verdant countryside following the coast, offering panoramic views of the sea.
For a pleasant break, you will have a chance to take a dip in one of several beautiful beaches. Tonight you will spend the night in the beautifully preserved medieval town of Santillana del Mar.
Day 3: Santillana del Mar to San Vicente de la Barquera
Distance: 20 miles (32 km). Climb: 1880 ft (573 m).
Enjoy a shorter day of cycling starting from Santillana, and breaking for lunch in Comillas, a town with a surprising number of attractions, including Gaudi architecture.
After that, continue your cycle to the stunning Oyambre Natural Park and its equally amazing beach. This day will end in the fishing village of San Vicente de la Barquera where you will be able to enjoy wonderful fresh fish and seafood for dinner amongst other local dishes.
Day 4: San Vicente de la Barquera to Llanes
Distance: 30 miles (48 km). Climb: 3317 ft (1011 m).
Start the day with fantastic views of the sea cliffs and go inland along winding country roads while cycling below the high peaks of the Picos de Europa mountain range.
Close to the end of the day you will reach little coves on your way to the bustling traditional fishing port of Llanes which awaits you with its cafes, bars, and terraces!
Day 5: Llanes to Ribadesella
Distance: 29 miles (47 km). Climb: 3419 ft (1042 m).
A shorter day with less climbing, go along smaller roads through a succession of quaint towns with wonderful sandy beaches, as we cycle on towards our destination today:
the port town of Ribadesella with its maritime walk and great restaurants.
Day 6: Ribadesella to Villaviciosa
Distance: 29 miles (46 km). Climb: 3419 ft (1042 m).
Today's cycling will take you along idyllic countryside to the cider capital of Villaviciosa and pass through an important wetland area of special protection for birds.
Cycle along more beaches and visit the picture-postcard town of Lastres, considered one of the most beautiful in Spain, where you can stop for lunch.
Day 7: Villaviciosa to Gijon
Distance: 27 miles (43 km). Climb: 2805 ft (855 m).
Today you reach your final destination: the small city of Gijon which has emerged from its industrial past and remodeled itself completely into a happening cultural icon
complete with pedestrianized streets, parks, seafront walks and a very lively food and drink scene.
Day 8: Departure or extra nights
Why not enjoy an extra night or two in Gijón or Santander. There is still so much to see and do!
Travel
Frequent questions:
How can I get to Spain by boat?

There are ferries from Southern England. More and more people bring their own car from the south of England to visit this part of Spain. There are ferries to Santander from Plymouth and Portsmouth. You can leave the car in Santander for a few days while you enjoy your cycling holiday with us and at the other end catch a bus from Gijón back to Santander to collect your car.

Which airport should I fly to?

Santander or Bilbao international airports.

How do I get to the starting point?

There are more international flights to Bilbao than to Santander. If you fly to Bilbao, you can easily get to Santander by bus. The company Alsa runs a regular service (about once per hour). The transfer takes 1hr and 30mins.

How do I get back?

The nearest airport to Gijón is Asturias airport. It is a 45 minute bus ride away. There are flights from Gijón to London, Paris, Madrid and Barcelona. If you prefer to fly back from Santander, there are regular buses from Gijón to Santander taking about 3 hours.
Hotels
Stay in a variety of three-star seaside hotels and high quality rural accomodation full of character and charm. From classical to modern styling.
Night 1: Santander
A 3-star hotel in the most stunning location in Santander: the Sardinero Beach which offers wonderful sea views out to the Magdalena Palace.
Night 2: Santillana del Mar
Experience this hotel astonishingly converted from the XVI century palace of Valdielso, rebuilt in the XIX century, and still maintaining its spectacular historic features as if a living museum. 3 stars.
Night 3: San Vicente de la Barquera
This is a modern, centrally located 3-star hotel within walking distance of both the monumental historic town centre and the lively fishing port.
Night 4: Llanes
A charming hotel, originally a XVII century Baroque convent converted into a stunning and comfortable 3-star establishment with excellent style far above its class.
Night 5: Ribadesella
A comfortable and tasteful 3-star hotel featuring original decor and centrally located near the port and some of the best restaurants.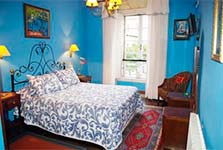 Night 6: Villaviciosa
Stay at this characterful colonial-style hotel, dating back to the XVII century, centrally located in the cider capital of Villaviciosa. The hotel is reputed to have hosted King Carlos I as he passed through this town. 2 stars.
Night 7: Gijón
Modern sea front 3-star hotel located in a privileged position in the commercial and cultural heart of the city, overlooking the beautiful San Lorenzo Beach.
Our Bikes
Touring bikesElectric bikes
Designed to withstand heavy loads and provide high safety and comfort even after long hours of riding in the saddle, these adventure bikes will serve you well both on and off-road.
The downside to all these extra features and equipment is weight, but on a long distance tour, reliability, comfort and safety, win the day.
Characteristics:
Time tested components to stay maintenance free during the tour.
Broad range of gears.
Stable carriers for luggage transport.
Permanently mounted lights with a hub dynamo.
Comfortable sitting position and straight, adjustable handlebars.
Other comfort features include bike stand, mudguards and bottle holder.
High bar and low bar models and sizes xs to XL.
Equipment provided:
Odometer
Rear pannier
Map carrier
Helmet
Water bottle
Lock
Pump
Puncture repair kit
Multitool set
Touring bikesElectric bikes
Not every type of electric bike is suitable to use in a cycling tour. Most e-bikes are actually designed for city cycling rather than long distances routes.
Experience allows us to choose e-bikes with the most suitable features for touring: reliability, simple operation, long battery life and short charge time.
Characteristics:
Time tested components to stay maintenance free during the tour.
Broad range of gears.
Stable carriers for luggage transport.
Permanently mounted lights with a hub dynamo.
Comfortable sitting position and straight, adjustable handlebars.
Other comfort features include bike stand, mudguards and bottle holder.
High bar and low bar models and sizes xs to XL.
Equipment provided:
Odometer
Rear pannier
Map carrier
Helmet
Water bottle
Lock
Pump
Puncture repair kit
Multitool set
Prices
April - June, mid-Sept - October:
Per person in double room720 €
This includes:
7 nights' accommodation. 7 breakfasts.

Luggage transfers between hotels.

Detailed maps with your trail clearly marked.

Itinerary description, full of recommendations for things to do and places to visit, advice and suggestions and information about your accommodation, etc.

Emergency support.

Activity insurance.
Supplements:
Single room supplement
125 €
For those travelling with others, but wanting a room to themselves each night.
Solo traveller supplement
258 €
For those travelling by themselves. Do not choose the "Single room supplement" as well in this case.
High season prices July - mid-September:
Per person in double room900 €
Single room supplement143 €
Solo traveller supplement276 €
Extras:
Half board (dinners, drinks not included)155 €
Bicycle hire100 €
E-bike hire180 €
Adult tandem180 €
GPS rental (one per group)30 €
Other options:
(Prices on request)
Extra night(s) in Santander
Extra night(s) in Gijon
If interested, please contact us with your plans, requirements and queries,
or simply use the "Get a quote" section, which we would recommend.
Get a quote
Reviews
we had an absolutely wonderful time

My wife and I did the green coast ride in September 2019, we had an absolutely wonderful time. The route chosen by Away From the Crowds is brilliant and they were very organised both before we started riding as well as during the ride.

We were sent all the required information well before we started riding, which was very detailed and covered all we wanted to know.

Their support during the ride was great and just a phone call away.

We chose to take the 'standard' bikes (as opposed to the electric bike option). Though the bikes were not top of the range (which is unrealistic to expect) the bikes were appropriate and in good condition. It's worth noting, however, if you do choose to take the non-electric bike option, you will need to be relatively bike fit. As 6 days of continuous riding over some scenic but hilly routes will take its toll.

We will happily use Away From the Crowds again and expect you'll enjoy this ride as well.

Raphael Ozrath and Rita Sully, Australia.

I can't believe more people don't come here.

It was spectacular. I can't believe more people don't come here. The scenery was jaw-dropping and there was so much cultural richness.

Away From the Crowds accommodated us with a tandem which really helped navigation and made it possible for us to talk and point things out. The panniers were great.

The hotels were really nice and the routes were wisely selected.

When our chain broke in the middle of nowhere, the company came to our aid within 20 minutes.

When our gears needed a quick tune-up they talked directly to a local bike shop and paid for everything.

Can't recommend this outfit enough.

Sarena Neyman. USA.

We adored the quiet roads and the flower-covered meadows

We loved every town and city we stayed in and found the countryside beautiful - both the mountains to our left and the coast to our right.

The grade of cycling suited us too - each day was a good length and challenging enough for regular cyclists like us (we even found a couple of the ascents very steep - and we're used to lots and lots of steep hills where we live!).

The standard of accommodation was very high - we particularly liked the hotels at Llanes, Santillana de Mar and Ribadesella (although all were good).

The beaches were beautiful and - although we didn't stop to swim in all of them - we did bathe at Playa Ballota near Llanes (the cycle back up from the beach to the road is tough!) and Santander.

We adored the quiet roads and the flower-covered meadows and there were some great lunch stops overlooking the coast. We really liked the flexibility that the self-guided aspect of the holiday afforded us - as long as we had our stuff packed and ready for the taxi driver, we were able to plan the day as we wanted from then on.

Being able to eat late in the evening suited us well and we found the food available was both reasonably priced and varied. The towns where we stayed at were very well-chosen and were interesting to look around in the evening and before setting out in the morning.

Villaviciosa was a town that didn't look interesting initially but was spotlessly clean and had a lovely old quarter - as well as a walk out of the town up a extremely steep hill giving great views back down to the town (as well as the best cafe of the whole trip! (Pasterelia Viena, Calle Victoria Garcia de la Concha)).

Ribadesella also had a good walk up to the top of a nearby hill to look down across the estuary. Looking back over the photos I've not covered half of what we saw and enjoyed along the way.

We'd definitely visit and cycle the in the area again. I'm already looking at the other holidays you have on your website for next year.

As mentioned above the steepness of some of the ascents could be difficult for the occasional cyclist as could the more technical off-road parts - although we loved how challenging the cycling was.

Simon and Sharon Wilkins. UK.

places we would never have found

We love the scenery; people; food; weather; the route was amazing.

My tag line for this company is: Away from the Crowds and "off the beaten path".

We saw and cycled places we would never have found on our own. The only issue was that we wanted more time every place we went...

Can't wait to do another trip!

Laurie Wood, USA.

very good bikes and equipment

We have finished our tour and just want to share some impressions.

First the basics: amazing weather, very good bikes and equipment and personal introduction, well picked hotels.

Second the tour itself: perfect routing and route description, gourgeous mix of landscapes, views and roads as well as a good balance of workout and relaxation.

Thanks for all your efforts! We will surely recommend you to family and friends. 👌🤓

Cheers & Greetings from Gijon,

Ilona & Manfred, Germany.

country lanes through the farms and small villages - this was the highlight

The tour was great.

The bikes were good - the electric bike was fantastic and I did not have to summon my inner Contador to do the hills which was great because a few of them were very steep.

The GPS maps were excellent and worked really well.

Communication with Vanessa and Jaime was great, Vanessa helped us out with bike issues and was really prompt and nice.

The terrain was good - the best being the country lanes through the farms and small villages - this was the highlight. Some of the Camino trails were rough and worse was the walkers who decided they needed to walk 3 abreast across the track and not let riders through easily. The roads were OK, the Spanish drivers are very considerate of bike riders!

Hotels were good, clean and the hosts were all lovely. Hotel Chiqui was impersonal but the others were really nice. Our favourite hotel was Don Paco, the best breakfast was in Hotel Jardín. The towns were lovely, all different and we really liked Gijon and were glad we booked another night there. The bike ride down into Gijon was excellent.

So all in all, aside from the first ride day being so wet and unable to do it, I think it went very well and it was a great experience and we loved the north coast of Spain. Would definitely recommend for fit riders and go the electric bike for everyone else. After the first day the weather was warm and it was a great experience.

The ride was the highlight of our 5 week trip.

Yes we did drink lots of Sidra!! And eat lots of Pintxos too.

Thank you

Marisa and Jim Drewe, Australia.
CO₂ footprint offsetting
This holiday produces a carbon footprint of 0,4269 tonnes of CO₂. This includes taxis, luggage transfers and accommodation for every traveller.
We will compensate the CO₂ footprint for each booking through tropical reforestation projects in collaboration with the CeroCO₂ platform.
Additionally, you can also offset your own flight emissions by visiting myclimate. See the link below.