Walking in the Sierra of Salamanca
Take a step back in time on this walking holiday through the very heart of rural Spain and discover the stunning UNESCO World Heritage Site of Salamanca and its nearby Sierra full of untouched culture and traditions.
Difficulty:Moderate
Details ...
Duration:7 nights, 8 days
Dates:April to 31st October
Start:Any day of the week
Undulating or hilly terrain with perhaps three ascents per day.
Average daily distance / climb:9 miles (15 km) / 1629 ft (497 m).
Description
This is a walking tour to remember in one of Spain´s unknown areas. One day visiting monumental and historic Salamanca and five days enjoying stunning walks amongst hills covered in broadleaf woodland.
Discover the breath-taking historic city of Salamanca full of architectural treasures and reputedly the most beautiful 'plaza' in Spain.
Visit one of Spain's oldest universities, la Universidad de Salamanca, founded in 1218. Soak up the centuries of learning, wisdom and history!
A walking holiday for the discerning traveller far away from mass tourism and totally immersed in local culture, history and traditions while enjoying typical architecture and gastronomy.
Delightful walks through the remote rugged countryside of the 'Sierra de Francia Natural Park', an area of special protection for wildlife.
Wander the cobbled streets of the enchanting village of La Alberca with it's genuine local architecture and family-run rural museums.
Tiny olive groves, local vineyards, tempting cherry ochards and charming terraced vegetable gardens accompany you through vast oak and chesnut forests on this very special walking tour!
An area steeped in myth and legend with deep ancient roots -prehistoric cave paintings, Medieval churches, 12th century villages and castles... a photo opportunity at every turn!
Itinerary
Day 1: Arrival to Salamanca
Arrival at the UNESCO World Heritage City of Salamanca and begin your city tour.
Day 2: Salamanca and La Alberca
Distance: 7 miles (12 km). Ascent/descent: 853-2379 ft (260-725 m)

You have all morning to explore this truly impressive city, explore its beautifully preserved historic centre and enjoy its many fabulous sights and monuments before your taxi transfer to Sierra de Francia in the afternoon. Take time in the evening to stroll through the cobbled streets of La Alberca. Look out for its curious resident 'San Antón', the resident free-range pig!
Day 3: La Alberca - Las Batuecas
Distance: 7 miles (12 km). Ascent/descent: 853-2379 ft (260-725 m)

Brace yourself for the spectacular, breath-taking views that accompany you on today's route. Descend into the beautiful Batuecas Valley with its isolated Monastery, then take the meandering riverside path to the prehistoric cave paintings. You won't be able to resist taking a dip in the crystal clear waters of the river Batuecas! A taxi transfer will take you back up to La Alberca. This evening you could visit the charming 'Museo del traje' or 'Casa Juanela' both little museums illustrating village life from a bygone era.
Day 4: La Alberca - Mogarraz
Distance: 12 miles (19 km). Ascent/descent: 2625-3609 ft (800-1100 m)

Today's route takes you through lush oak and chestnut woodland, passing by several typical mountain villages and finishing off in the picture-perfect, 12th century village of Mogarraz. Here you can enjoy the singular street-art exhibition of portraits which reflects a former age, past but not forgotten!
Day 5: Mogarraz - Miranda del Castañar
Distance: 7 miles (12 km). Ascent/descent: 2431-1719 ft (741-524 m)

A walk taking you though the south facing slopes, cultivated with vineyards and olive groves and surrounded by strawberry tree and oak woodland. You will walk past two traditional mountain villages to reach the wonderful village of San Martin del Castañar. Don't miss its ancient bullring at the top of the village and be sure to take the opportunity to lose yourself in the enchanting cobbled streets of this historic place.
Day 6: Miranda to San Martin del Castañar
Distance: 10 miles (16 km). Climb: 1719 ft (524 m).

Once again, the walk takes you along ancient trails amongst cultivated land and wonderful woodland. You will pass several interesting villages where you will be able to stop and rest and enjoy a well deserved lunch. You will arrive to another stunning village protected for its historic heritage, San Martín del Castañar.
Day 7: Peña de Francia - San Martin del Castañar
Distance: 11 miles (17 km). Ascent/descent: 1296-3937 ft (395-1200 m)

Today we take you up to the dizzy heights of 1.727 m... by taxi! The lofty peak of "Peña de Francia" will offer you breathtaking 360º views of the surrounding countryside. You will have time to explore the monastery and chapel. From here your walk winds through open mountain landscapes, aromatic pine forest and later through beautiful woodland of oak and chestnut on the lower slopes of this singular mountain. Return to San Martín del Castañar where you can reward yourself with a traditional dinner in one of the village's excellent restaurants.
Day 8: Departure
Return home today or why not treat yourself to an extra night or two in Salamanca or Madrid!
Travel
Frequent questions:
Which airport should I fly to?

Madrid International Airport.

How do I get to the Starting Point?

Take a comfortable train from Madrid train Station (aproximately 1hr:40mins).

How do I get back?

Bus service from San martin to Salamanca (1 hour approx) and from there take a train back to Madrid.
Hotels
One comfortable city hotel in the very center of Salamanca and four small rural hotels with plenty of charm.
Night 1: Salamanca
Located on Salamanca´s famous Plaza Mayor, 5 minute´s away from the Cathedral and university Las Torres is a comfortable and modern three star hotel.
Nights 2 and 3: La Alberca
Family-run rural hotel just a few minutes walk from the village centre. Set in Las Batuecas-Sierra de France natural park, this charming hotel is located in a quaint building with a half-timbered-and-stone exterior.
Night 4: Mogarraz
Small rural hotel in a lovingly restored traditional village house. This listed building of traditional architecture provides its own restaurant which serves homemade, local dishes and during the summer months, you can dine on the terrace looking onto Plaza Barrio Hondo.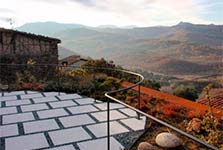 Night 5: Miranda del Castañar
Modern rustic style hotel with stunning views from its roof-top terrace. The hotel is located in the very heart of this beautiful 13th century walled town.
Nights 6 and 7: San Martin del Castañar
Charming rural hotel located just beside the river in a very quiet corner of the village. This hotel combines modern and traditional in bright, streamlines rooms. Guests can enjoy the terrace and garden in the summer months.
Prices
Basic price:
Per person in double room623 €
This includes:
7 nights' accommodation. 7 breakfasts.

Private transfer from Salamanca to La Alberca on day 2

Private transfer from Las Batuecas back to your hotel on day 3

Private transfer from San Martin del Castañar to Peña de Francia on day 7

Luggage transfers between hotels.

Detailed maps with your trail clearly marked.

Itinerary description, full of recommendations for things to do and places to visit, advice and suggestions and information about your accommodation, etc.

Emergency support.

Activity insurance.
Supplements:
Single room supplement
143 €
For those travelling with others, but wanting a room to themselves each night.
Solo traveller supplement
242 €
For those travelling by themselves. Do not choose the "Single room supplement" as well in this case.
Extras:
Half board (dinners)115 €
Transfers:
Taxi (4 max) San Martin to Salamanca
97 €
1hr:15mins. Price per taxi
Other options:
(Prices on request)
Extra night(s) in Madrid
Extra night(s) in Salamanca
If interested, please contact us with your plans, requirements and queries,
or simply use the "Get a quote" section, which we would recommend.
Get a quote
Reviews
each day's walk was interesting and different.

This is to let you know that we all had a great time on the walk.

The accommodation was good and all the people we met were friendly and cooperative, even though our Spanish was negligible.

We liked the fact that each day's walk was interesting and different. The final day was the highlight and provided a fitting end to a great holiday.

The detailed instructions for each walk were comprehensive and easy to follow.

Finally, thanks for organising such a wonderful experience for all of us.

Gerald Sherry, Australia.

the best week's walking we have ever had in Spain

My wife and I had a wonderful holiday, and for that we are very grateful to Away From The Crowds. We are looking forward to our already booked holiday to Segovia in September of this year even more as a consequence. #pTHE WALKING

This aspect of the holiday was our greatest delight. Each walk was very enjoyable with the last day, from Pena de Francia to San Martin especially good, one walk that will live in our memories for a long while. We loved the villages we came across and where we stayed, and we both agreed it was probably the best week's walking we have ever had in Spain.

WALK INSTRUCTIONS

These were almost perfect. It was a little disconcerting that the first instruction tells you to follow the green and white lines when it should say ""yellow and white"". Mostly OK after that.I would add that in a few instances mentioning a distance or time to the next stage would help a little. Reading ""after some while"" or ""eventually"" in the instructions does not always inspire confidence. Lastly, a small note on how cold the start at Pena de Francia can be might help customers prepare a little better than we did. The lady at San Martin did warn us, but we did wish for a pair of gloves each at the start.

HOTELS

These too were more than adequate. All very comfortable, clean and (mostly) welcoming. A little more ""quirky"" than we are used to, but their character added to the overall enjoyment of the holiday as well. El Balcon in Mogarraz was our favourite hotel. The people in Antiguas Eras in La Alberca the most friendly and accommodating, and I would also like to thank the lady in San Martin for her hospitality, her cooking and her weather warning.

Keith Weymouth, UK.

wonderful programme

I can say that our holiday was wonderful. All the hotels were lovely, in different ways. In fact, it was a real pleasure to arrive at our next hotel and discover the delights each had to offer. We were fascinated by the character of the buildings in the villages that we passed through (and stayed at). The building styles were quite unlike anything we had seen before and it was great to see that each village had managed to prosper in recent decades while keeping their individual characters. The old photographs on display in La Aberca and Mogarraz were striking. We were also very lucky to be in St Martin during one of their festivals.

We enjoyed the walking which gave us a great introduction to the delights of the Sierra. The directions were clear and easy to follow and we had no difficulties except, perhaps, that we were accompanied by hundreds of flies as we walked through the forests. Unfortunately our walk from La Pena was in the mist so we didn't get the views but we have vowed to return there one day.

We find that walking with "Away from the Crowds" allows us to explore regions of Spain that we would otherwise not even think about and on both occasions we feel that we have experienced the "real Spain" and can't wait to return. I would also add that the Inclusion of a fascinating city like Salamanca or Segovia really adds something to the experience.

Many thanks for putting together such a wonderful programme and ensuring that it went without a hitch. We will continue to monitor your website for further adventures.

John & Liz Knowles, UK

wonderful mountainous route

Last 5 straight days we have been on daily long hikes in the lovely Sierra Francia in western Spain not all that far from Portugal, following a self-guided wonderful mountainous route, staying each night in medieval type villages, almost always deserted, feeling like time has stood still here for centuries.

Larry Rice, USA
CO₂ footprint offsetting
This holiday produces a carbon footprint of 0,3629 tonnes of CO₂. This includes taxis, luggage transfers and accommodation for every traveller.
We will compensate the CO₂ footprint for each booking through tropical reforestation projects in collaboration with the CeroCO₂ platform.
Additionally, you can also offset your own flight emissions by visiting myclimate. See the link below.