Our destinations - Original Cycling and Walking Tours
The tours you see here are all researched and designed by us. We don't sell other operator's tours. We are the locals!
We believe this is a crucial way of ensuring customer satisfaction, as we can explain every detail better than anyone else and make sure the tour matches your expectations.
You might see our holidays advertised on the websites of agencies in other countries that sell our products, but we are the original experts on each one of them.
Taking the road less travelled.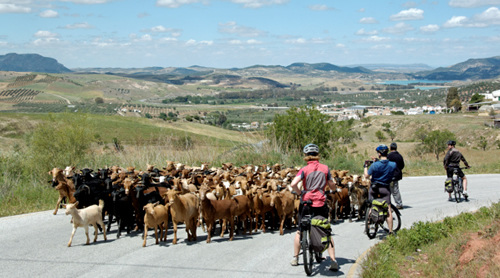 In our quest for genuine, unadulterated travel experiences we always choose the road less travelled. We have selected regions of Spain of extraordinary beauty and fabulous historic and cultural interest.
Some destinations, such as Mallorca, Sevilla or the Camino de Santiago are very well known but others, like Extremadura, Segovia or Asturias, are amongst those areas still waiting to be discovered.
Of course there are good reasons why people flock to certain towns and sights and we want to take you there too. But we will take you to a different viewpoint, along a different street or small road. This way you will soak up the real Spain and mix with the locals.
Cycling itineraries away from the crowds.
It's no fun cycling along roads with a lot of traffic so we take you to those smaller roads and country lanes where you can really enjoy the ride!
Wherever possible we will use cycle lanes and dedicated cycle tracks such as the "Via Verdes" (disused railway tracks now converted into cycling highways), but mostly you will be riding on small tarmac secondary roads with where you can focus on enjoying the cycling and the landscape, small towns and villages and seeing first-hand how people live in that part of the world.