Somiedo Natural Park, Asturias.
A stunning walking holiday through Somiedo, one of the last wild spaces of Western Europe. These unknown mountains of Asturias, Northern Spain are in an area of outstanding natural beauty and incredibly rich in wildife.
Difficulty:Moderate
Details ...
Duration:7 nights, 8 days
Dates:May to 15th October
Start:Any day of the week
Undulating or hilly terrain with perhaps three ascents per day.
Average daily distance / climb:9 miles (16 km) / 1681 ft (513 m).
Description
One day exploring the beautiful capital of Asturias: Oviedo and five days walking amongst mountains in one of Europe´s most beautiful and untouched landscapes.
To begin with you will have a chance to discover the vibrant city of Oviedo with its beautiful city centre.
Once you reach the mountains you will enjoy spectacular walking in the breathtakingly beautiful Somiedo Natural Park and Biosphere Reserve, in the heart of Asturias.
We have designed sensational mountain walks in one of Spain's best preserved wilderness areas. Each walk starts with a private transfer to a high point so that you can enjoy mountain views without all the effort.
Discover the isolated comunities that have shared these mountains with wildlife for centuries. Although they are rarely seen, bears and wolves still find find pristine habitats here in which to thrive.
Savour the traditional food and drink of Asturias and meet the hospitable locals! Rich stews, roasted meats, natural cider, a huge variety of cheeses and delicious local vegetable dishes...
Several walks will take you to the mountain villages where shepherds used to spend the summer months with their cows in search of fresh pasture. The groups of stone constructions with thatched roofs are a beautiful reminder of pastoral life which still lives on here.
Itinerary
Day 1: Arrival to Oviedo
Arrival to Oviedo, the capital city of Asturias and a chance to explore the beauty of the medieval city centre with its stunning gothic cathedral parts of which date back to the 9th century. Take time to meander the streets and admire the typical local architecture while enjoying this buzzing, lively city.
Day 2: Oviedo - Pola de Somiedo
You may have time to continue to explore the delights of Oviedo this morning before travelling by public transport to the beautiful village of Pola de Somiedo in Somiedo Natural Park. This is a truly impressive location surrounded by high rugged peaks with birds of prey swooping overhead. Make sure you try the delicious local cuisine! Here you can take the opportunity to gather more information about the park in the local visitors' centre.
Day 3: La Peral - Villar de Vildas
Distance: 9 miles (15 km). Ascent/descent: 1640-3150 ft (500-960 m)
Transfer to the isolated mountain village of La Peral where you start your first walk towards the tranquil valley of Villar de Vildas. You will come across the enchanting thatch-roof shepherd's hamlet of La Pornacal, high in the mountains where you witness the time-honored pastoral traditions still practised today. This really is a place lost in time!
Day 4: Llamardal - Valle del Lago
Distance: 7 miles (12 km). Ascent/descent: 1772-1837 ft (540-560 m)
Today your route continues along well-singposted footpaths in an area of special protection for wildlife. Today's views are truly magnificent, you will feel as if you are on the top of the world! You will then descend into deciduous woodland until you reach the authentic quaint village of Valle del Lago, where you will spend the next two nights.
Day 5: Farrapona - Valle del Lago
Distance: 9 miles (14 km). Ascent/descent: 925-2520 ft (282-768 m)
Transfer to the Farrapona Mountain Pass and a fabulous walk from here to visit the impressive glacial lakes surrounded by imposing summits. Then a breathtaking decent into the remote valley of El Lago. You'll be spoilt for choice for idyllic picnic spots today, every view is captivating!
Day 6: Puerto San Lorenzo - San Salvador
Distance: 13 miles (21 km). Ascent/descent: 1552-3543 ft (473-1080 m)
Today's route takes you from the majestic San Lorenzo mountain pass to the secluded mountain village of San Salvador. You will pass by the remarkable 'Braña de la Corra', with the enchanting timeworn 'teitos' still in use by the local farmers. Enjoy this wonderful day walking in an inspiring natural environment! Watch out for interesting animal tracks as you walk. This is the sort of place where one can feel truly happy for a day!
Day 7: San Salvador circular route
Distance: 9 miles (14 km). Ascent/descent: 2516-2546 ft (767-776 m)
Today you will have the opportunity to visit the fascinating 'Cueva Huerta' with its towering vaults and winding galleries. This circular route takes you through tiny ancestral villages lost in time, the remaining vestiges of a bygone era. Chestnut, oak, beech and birch trees will accompany you as you enjoy this spectacular walk.
Day 8: Return or extra nights in Oviedo
Why not indulge in an extra night or two in Oviedo to enjoy this culturally rich city?
Travel
Frequent questions:
Which airport should I fly to?

Asturias International Airport.

How do I get to the Starting Point?

The first night in Oviedo by bus from the airport. The next day on to the walking area itself also by public transport (bus).

How do I get back?

Bus service from San Martin de Teverga directly to the airport. Alternatively you can book a private taxi from Teverga to the airport for about 95€.
Hotels
A night in a very comfortable city center hotel in interesting Oviedo and 6 nights in hand-picked rural hotels: small, family-run rural hotels where you can relax comfortably after each of your day's walk.
Night 1: Oviedo
Centrally located three star hotel set in a venerable stone building with elaborate wrought-iron railings, this modern hotel is a 4-minute walk from the Museum of Fine Arts of Asturias and within walking distance from 9th-century San Julián de los Prados church.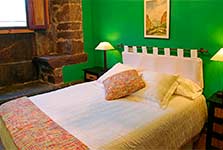 Nights 2 and 3: Pola de Somiedo
A 15th century mansion house surrounded by mountains and set in generous garden grounds. Carefully decorated rooms and common areas make or a very comfortable stay.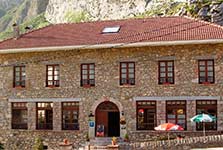 Nights 4 and 5: Valle del Lago
Small rural hotel built in what used to be the imposing stone building of the village school. Comfortable rooms and lounge areas and restaurant.
Nights 6 and 7: San Salvador de Alesga
A charming, small rural hotel run by local family whose farm is on the grounds. One can breathe the traditional way of life here as you listen to the murmur of a clean river beside the house.
Prices
Basic price:
Per person in double room655 €
This includes:
7 nights' accommodation. 7 breakfasts.

Local transfers to the starting point of walks on days 2, 3, 4 and 5.

Transfer from the end of the walk on day 2.

Luggage transfers between hotels.

Detailed maps with your trail clearly marked.

Itinerary description, full of recommendations for things to do and places to visit, advice and suggestions and information about your accommodation, etc.

Emergency support.

Activity insurance.
Supplements:
Single room supplement
137 €
For those travelling with others, but wanting a room to themselves each night.
Solo traveller supplement
264 €
For those travelling by themselves. Do not choose the "Single room supplement" as well in this case.
Extras:
Half board (dinners)120 €
Transfers:
Taxi Oviedo to Pola de Somiedo (1-4 persons)95 €
Taxi San Salvador to Oviedo (1-4 persons)65 €
Taxi San Salvador to Avilés Airport (1-4 persons)110 €
Other options:
(Prices on request)
Extra night(s) in Oviedo
If interested, please contact us with your plans, requirements and queries,
or simply use the "Get a quote" section, which we would recommend.
Get a quote
Reviews
The whole trip was lovely in every way

The whole trip was lovely in every way; the places and culture we visited and heard; the walks in the different areas at the different altitudes, the interesting history flowers including gentians and birds we saw.

Just as lovely as the last route in La Sierra Francia – just different and we loved the quietness of it all.

Hotels Fruela and San Salvador were excellent and just what you shared; owner run rural hotels with real sense of visiting Spain and I could practice my Spanish.

Hotel in Valle del Lago: yes the suite was good and we thank you for your help as on the second day of our stay all of Beronia's family arrived and took over the hotel; lovely for her and had we been in the room on the first floor we would have had a very difficult time.

All places to eat were good especially in San Martin and in Pola; lovely.

Frances Cole, UK.

Highly recommended

We very much enjoyed our walking holiday in the Somiedo National Park.

The landscape was magnificent: beautiful mountains and spectacular panoramas.

The trip was very well organized. Highly recommended.

Ton Langenhuyzen, Holland.
CO₂ footprint offsetting
This holiday produces a carbon footprint of 0,3577 tonnes of CO₂. This includes taxis, luggage transfers and accommodation for every traveller.
We will compensate the CO₂ footprint for each booking through tropical reforestation projects in collaboration with the CeroCO₂ platform.
Additionally, you can also offset your own flight emissions by visiting myclimate. See the link below.